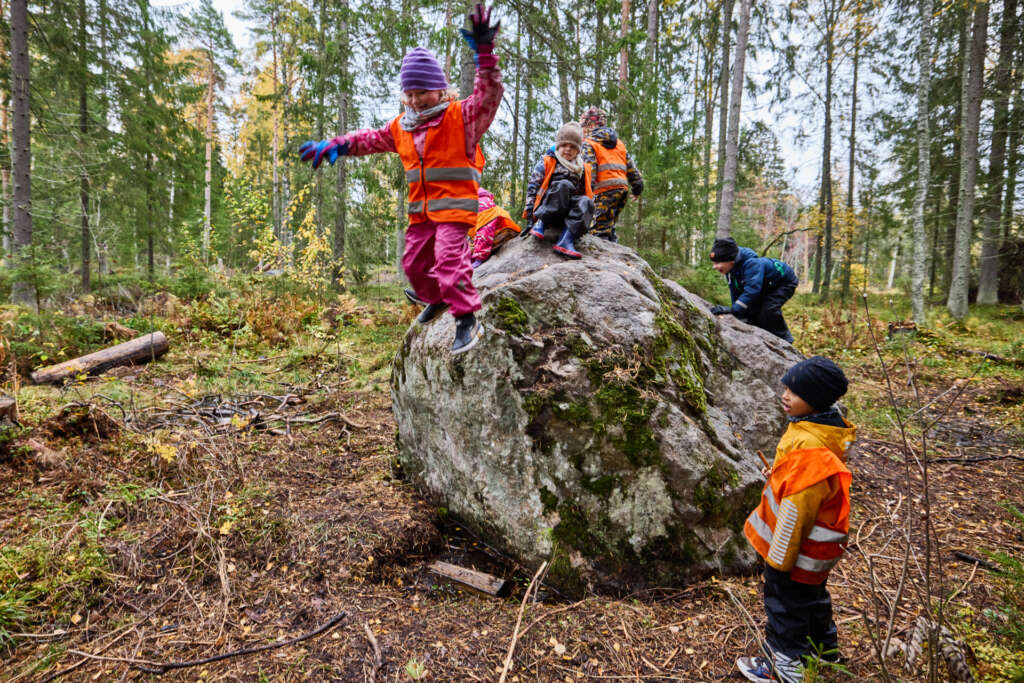 Article categories: Archive News
Mud fights and frogs: the forest school teaching kids in the nature
Published: 28.10.2021
In Kuparisaari forest, there is singing, laughter and sometimes even silence. In the forest clearing you can meet the Hirvet group of pre-schoolers from Punahilka daycare centre, who are the first official outdoor daycare group in Vaasa.
Six-year-olds Pyry Sjöblom and Veeti Hahto are clumsily agile in a beautiful shelter made from twigs and branches, and not even Pyry's crutches get in the way.
– Here in the shelter you will find cupboards with extra sticks for building. And yesterday we saw at least a hundred frogs in those puddles, the boys explain.
The children think the best thing to do outdoors is to play house, hide and seek, and tag, and to have mud fights. Jumping from the rocks is also easy for the pre-schoolers.
A base in the forest
The Hirvet group spends its days outdoors from 09:00-13:00. In the morning, they gather in the yard of the Suvilahti daycare centre, from where the journey continues to their base in the forest behind the ice hall.
Besides the three wooden shelters in the clearing, the place is no different from the rest of the forest. Often, the pre-schoolers continue their journey elsewhere, for example to the beach or to a multipurpose park area.
Many have asked the staff what will happen in the winter when it is 30 degrees below zero.
– This is not a Vaasa version of Survivor, so if necessary, we can, for example, move to eat indoors, says childcare worker Mika Keko.
The Hirvet group also has a cottage in the inner yard of the Suvilahti daycare centre. Breakfast is served there in the morning and they can rest there in the afternoon.
Same curriculum, different implementation methods
The children always have their own backpacks and spare clothing. The teachers' larger backpacks carry extra spare clothing, laminated instructional materials, and phones and tablets.
The same pre-school curriculum is followed outdoors as with indoor groups. The teaching and methods are designed and implemented outwardly as appropriate, that's why they are more functional than usual. The development of emotional skills, reading and geometry works outside.
– We can use pens and notebooks on the tables and benches by the Suvilahti shore, but yes, our own names are also written with sticks and stones, says early childhood education teacher, Sanna Afonne.
New outdoor daycare centres in Gerby and Huutoniemi
Punahilkka daycare centre's outdoor group is a pilot project for the current school year, gathering experiences for the future.
More of these popular outdoor daycare activity centres will be launched in Vaasa this year.
A Finnish-language outdoor group in Huutoniemi and a Swedish-language group in Gerby will be established for 5-6-year-olds. The bases for outdoor daycare groups will be established on the premises of Gerby and Huutoniemi open daycare centres.