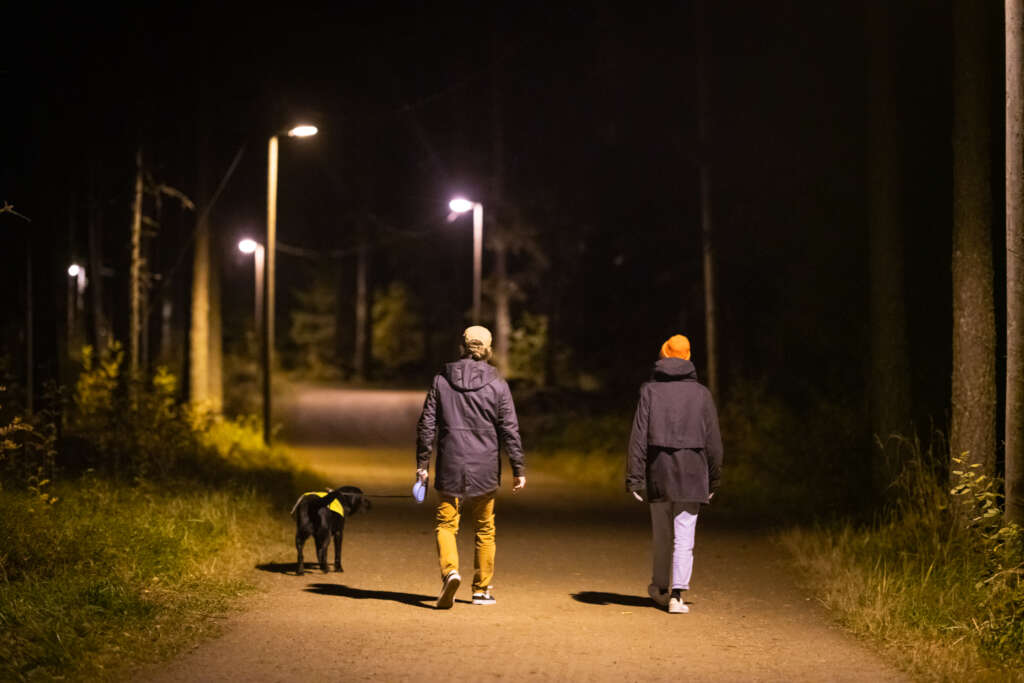 Article categories: Archive News
New energy-efficient lighting to be provided for fitness trails
Published: 23.9.2021
In Vaasa, the lighting along nine fitness trails will be renewed. The old energy intensive lamps will be replaced by LED luminaires with motion detection, snow detection and visitor counters. The goal is to have good, safe energy-efficient lighting along the tracks and trails.
The lighting will be renewed during 2021 and 2022 along a total of nine fitness trails in Vaasa: Asevelikylä, Huutoniemi, Merikaarro, Metsäkallio, Ristinummi, Suvilahti, Vaskiluoto, Vähäkyrö's Saarenpää and Öjberget.
Preparatory work has already started, and the actual installation work on the sites will begin in late September. This year, work will be carried out at Asevelikylä, Merikaarto, Ristinummi, Suvilahti and Vaskiluoto.
The existing high-efficiency and uneconomical mercury vapor lamps and high-pressure sodium lamps used on fitness trails will be replaced by energy-efficient LED luminaires. A total of 793 lamps will be replaced.
– This is one of the intermediate stages when it comes to exercising towards a carbon-neutral Vaasa. The new luminaires will pay for themselves through energy savings. We will get good and safe lighting for fitness trails, which also reduces light pollution and extends the life of the luminaires, says Sports Director, Mika Lehtonen.
Motion detection adjusts lighting according to use
In addition to LEDs, energy and snow detection also saves energy.
– The lighting will dim to a 10% level if there is no movement on the fitness trail. But when movement is detected, the luminaires will brighten to 80 per cent before dimming again after a programmed time (e.g. 30-60 minutes) if no more movement is detected, says electrician Harri Heino.
The current lighting on the fitness trails has been controlled with a timer, i.e. the lamps are on full power from 07:00 – 21:00, whether there are people there or not.
Snow detection for the new lighting enhances the lighting if there is no snow on the fitness trail. On the other hand, if there is snow, the maximum lighting level can be lowered.
– Snow can reflect up to 98 per cent of the light hitting it, so snow detection improves the quality and safety of lighting. The lighting can also be remotely turned on or off depending on the snow situation, Heino says.
Traffic counters help with maintenance planning
At the same time, the fitness trails also have visitor counters, which show the actual utilisation rate of the trails and tracks.  This also makes it easier to plan maintenance and investments for the fitness trails.
A total of about 80,000 euros from the Sports Services budget has been set aside for the renewal of the lighting. The renewal of the trail lighting and the control systems will be carried out in co-operation between the City of Vaasa's Public Utility Services and Sports Services.
After the lighting is completed, Vaasa residents will also be asked how the new lights are perceived and experienced.