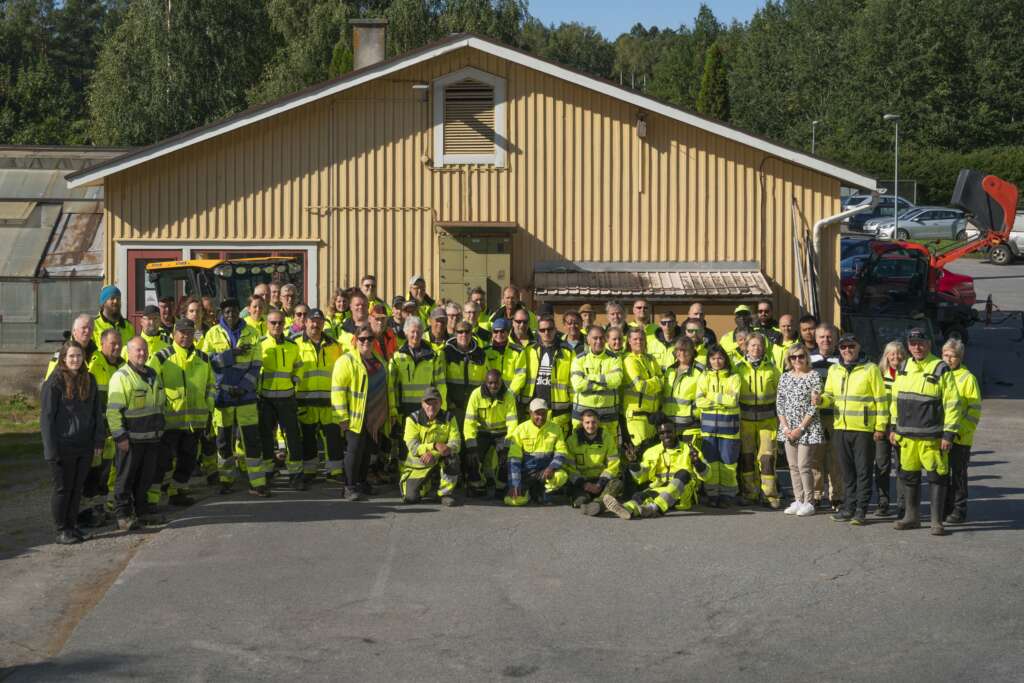 Article categories: News
The best-maintained green areas in Finland are located at Vaasa!
Published: 7.9.2023
Vaasa came out on top in terms of green areas management in a national survey measuring residents' satisfaction. The annual survey assesses residents' satisfaction with the community services in their place of residence.
In addition to parks and boulevard parks, green areas include urban forests, playgrounds, dog parks, marinas, and some local sports areas. Vaasa residents' satisfaction in this respect has been among the highest in Finland for many years. However, the situation has not always been so rosy.
– Comparisons between municipalities have been made since the mid-1990s, and Vaasa first took part in the survey in 2004. Back then, we reached place 22, almost the last one, when it came to parks, recalls Timo Jousmäki, Director of Forestry.
Since then, the practices have been systematically improved every year.
– The number one ranking is the result of long-term work, using all the little resources we have had. Great green areas are Vaasa's asset, and it is great to see that the residents also appreciate the work done for them, Jousmäki continues.
The cheapest maintenance in Finland
The fact that Vaasa is also at the top of the list in terms of cost-effectiveness makes it even more valuable. The amount of money spent per square metre was the lowest in Finland.
– You could say that we have the lowest cost of green area maintenance in Finland. We have a very committed staff, and we try to do everything we can to find new people to join the team, says Kaj-Erik Grandell, head gardener.
Vaasa has a lot of green areas considering the size of the city, and there are, for example, attractive parks in every part of the city. There are three teams working in the green areas, one focusing on landscaping, one on green area management and one on forests. There are around thirty permanent employees, in addition to plenty of seasonal workers. At their busiest in the summer season, there are up to 135 employees.
– We are the largest employer of summer workers in Vaasa, and we also employ trainees, immigrants, young people with special needs, and, in the past, prisoners, says Grandell.
– The good and significant cooperation with the city's employment services has also made it possible to provide extensive employment and follow-up training for long-term and state-funded employees and work trials, continues Leila Roininen, green areas horticulturalist.
The importance of community
Residents are also involved in the maintenance of green areas, for example through various forms of volunteering. This spring, for example, people in Vaasa collected more than 3000 bags of litter from their surroundings in a campaign called "One Million Trash Bags" by Yle.
– Green areas belong to everyone, and community spirit is important in their management. We listen carefully to our residents and involve them wherever possible, says Roininen.
The green areas' achievement will be celebrated at the main event of Mobility Week in Onkilahti Park on Monday 18 September. The full programme for Mobility Week will be published next week.
– We invite everyone to join us in Onkilahti, where you will find lots of different activities. At this stage we can also reveal that we will be creating a spectacular sunflower field next summer as a thank you to the residents, says Roininen.
In addition to green spaces, the survey also measured resident satisfaction with other community services. In Vaasa, the results have clearly improved in recent years. For example, in 2021, Vaasa was rated significantly above average for three services, while this year the same can be said for eight services.
The highest scores were for lighting and the most room for improvement is in the winter maintenance of footpaths and cycling paths. Vaasa's maintenance of streets and green areas has been 12% more cost-effective than the average for other municipalities.