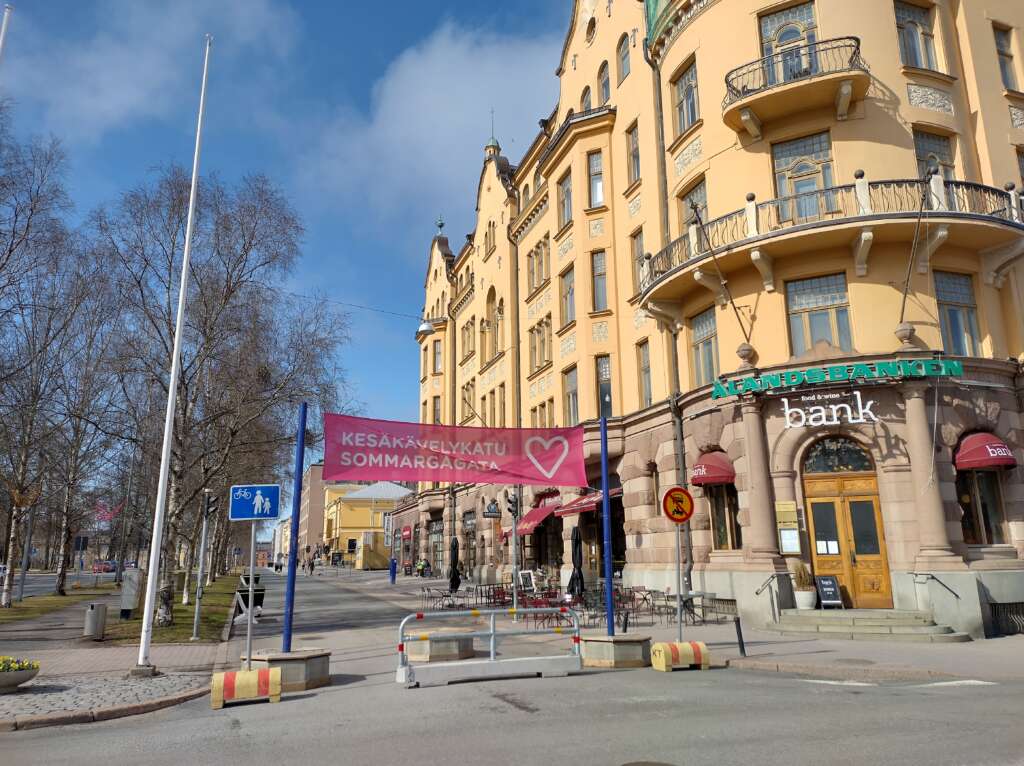 Article categories: Archive News
The summer promenade will open already in April this year
Published: 2.5.2023
The summer promenade in Hovioikeudenpuistikko will again be opened on the stretch of street between Kirkkopuistikko and Raastuvankatu. This year, the promenade will be open longer than before, with the opening ceremony taking place on 28 April and the dismantling as late as on 15 September. Now in its fourth year, the summer promenade has received a lot of positive feedback not only from residents, but also from businesses and customers.
As in previous years, the Summer Promenade will feature a beautiful gateway and flower beds, as well as larger than usual restaurant terraces. There will also be seating areas and large pots of summer flowers, some of which will also serve as traffic dividers.
The walkway will also bring changes to traffic arrangements. The north side of Hovioikeudenpuistikko will be closed to drive-through traffic between Raastuvankatu and Kirkkopuistikko. Traffic lights will be disabled and the crossing over Raastuvankatu will be marked to the full width of the summer promenade.
Service and access to the lots will happen from the Kirkkopuistikko side. Some parking spaces (some subject to charge, so time-limited) will be temporarily withdrawn from the area. On the south side of the parkway, the left lane will be reserved for time-limited parking and delivery vehicles, leaving the total number of parking spaces unchanged and free during the summer.
Bus routes from Raastuvankatu to Kirkkopuisto will be re-routed via Hietasaarenkatu. The bus stop at the Hovioikeudenpuistikko will be closed for the summer.
Vaasa's pedestrian city centre was permanently extended last year between the railway station and Pitkänkatu. There are also plans to extend the pedestrian area towards the beach in the coming years.