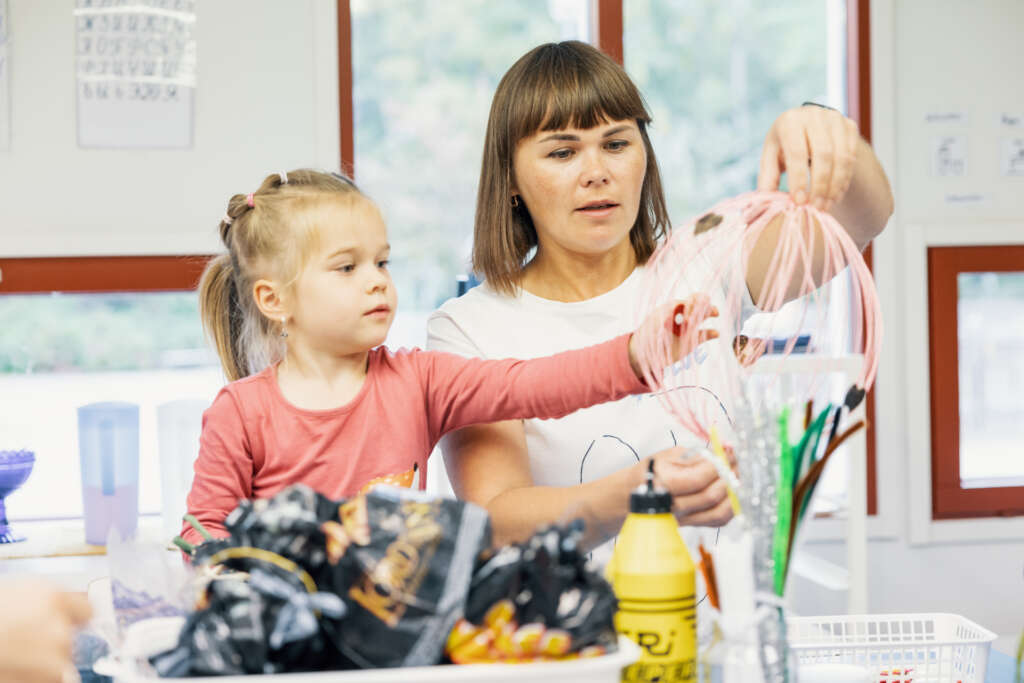 Article categories: Archive News
Ukrainian families enjoy Huutoniemi open daycare centre
Published: 24.10.2022
Since last spring, Early Childhood Education in the City of Vaasa has been arranging open activities for Ukrainian families on the premises of the Huutoniemi open daycare centre.
The doors at the Huutoniemi open daycare centre are open every weekday from 8:30-15:00.
There are always two early childhood education employees and often also volunteers who, for example, lead craft activities and teach the Finnish language.
– Sometimes we also cook together, either from the ingredients we provide or using those that the families bring with them, says family daycare service manager Arja Håkansson.
The goal of the activity is to offer safe, joint activities in peer support groups for children under preschool age, as well as for school-aged children and their parents during school holidays.
– One mother commented that being allowed to come here is therapy for them, explains Håkansson.
Company and activities for mother and daughter
Tanya Mishchenko from Kharkiv, Ukraine, often comes to the open daycare with her 4-year-old daughter Nina. Her older 9-year-old child goes to school in Ristinummi.
The mother and her children arrived in Finland in March, while her husband stayed behind in Ukraine.
– We live in Old Vaasa, and it's easy to get here by bike or bus. We both really like coming here. It's nice to learn Finnish through songs, for example, and my child always has friends here, says Mishchenko.
More than 700 visitors from August-September
The daycare centre also has a small donation table where families can take clothes, plates and toys free of charge. The items have been donated by members of the public in Vaasa.
According to Håkansson, there is a need for such open activities and there are enough visitors.
– There have been a lot of visitors, especially during last spring and this summer. During August and September there was a total of 724 visitors, says Håkansson.
The premises in Huutoniemi are mainly visited by Ukrainian families living in Melaniemi, Ristinummi and Teeriniemi.
This autumn in Vaasa, daily club activities for 3-5-year-old Ukrainian children will also be tried at the premises of the Kuningattarenpolku open daycare centre in Ristinummi.