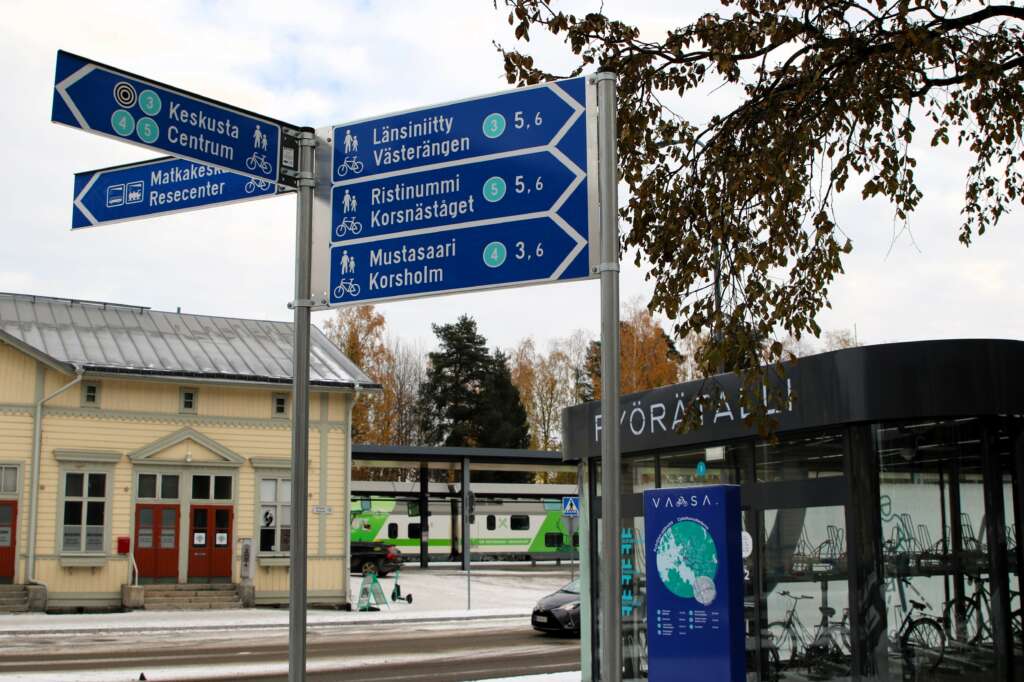 Article categories: News
Vaasa has new bicycle signage
Published: 2.11.2023
New cycling signs and signposts have appeared on the streets of Vaasa during the autumn. The signage guides cyclists to different parts of the city and the most important sports and leisure facilities, educational institutions, and tourist attractions.
There are more than 600 signposts along the seven main cycling routes throughout the city, from Sundom to Länsiniitty and from Vanha Vaasa to Strömsö. The last signpost was put in place in mid-October.
The blue-based signposts usually show the number of kilometres to the destination, and the route number if the route is the main cycle route rather than a specific destination.
– The routes start from the Vaasa Market Square, with comprehensive signposting of all routes. In addition, there is a signpost for the route along the main routes," says Samuli Huusko, project engineer for walking and cycling.
The new signs are part of Vaasa's walking and cycling promotion programme, which aims to improve the conditions for walking and cycle traffic and related services such as signage and cycle parking.
– Through comprehensive signage, we aim to make cycling smoother and more attractive. At the same time, we will improve cycling safety by guiding cyclists to use official, well-maintained main cycle routes," says Huusko.
Investing in winter maintenance
In addition to better signage, winter maintenance of the main cycle routes will be improved in the coming years. The search for a contractor to carry out winter maintenance of the main cycle routes is currently open to competition.
– We want cycling to be a viable option for everyday mobility in Vaasa, all year round. This requires that the conditions are right and that the main cycle paths can be used regardless of the weather or the time of year," says Huusko.
Vaasa has defined a target network for cycling in 2021, including main and regional routes. Over the coming years, around 50 kilometres of new high-quality pedestrian and cycle paths, or quality corridors, will be built to connect different parts of the city to the city centre.
– The future target network has also been considered in the development of the reference plan. Some of the signs will also point to smaller sub-routes and local routes, from which there will always be a shortcut back to the main route. The signs will be updated if necessary, as the alignments change," says Huusko.
All signposted main cycling routes can also be found on vaasa.fi.