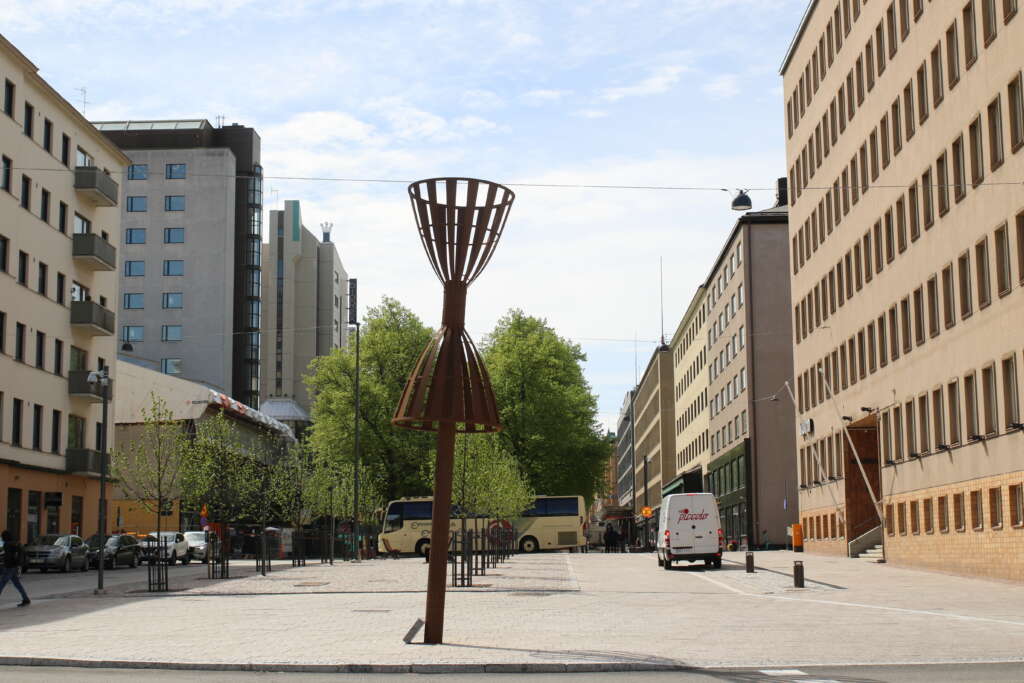 Article categories: News
Vaasa wins national award for expanding pedestrian centre
Published: 6.6.2023
The renewed pedestrian street section of Vaasa's pedestrian centre has been awarded as the Municipal Engineering Achievement of the Year 2023 in the series of construction projects. The prize was awarded by the Finnish Association of Municipal Engineering (FAME).
The extension of the pedestrian centre, opened in December last year, was awarded at the Municipal Technology Days in Jyväskylä. The City of Vaasa was praised by the press jury in particular for the city's persistent and determined work to develop a pedestrian centre that serves both residents and visitors. The last time Vaasa received such recognition was in 2014, when the Vaskiluoto Bridge was awarded.
– The project has created more space for pedestrians, improved the urban image and increased the attractiveness of the environment. In addition, the new pedestrian street will allow passengers arriving in Vaasa by train or bus to make an easy transition from the Travel Centre directly to a high-quality and attractive pedestrian environment," says Siri Gröndahl, Director of the Municipal Engineering Services Unit.
The award was collected by Siri Gröndahl, representing the City of Vaasa and Jari Jantunen, the Network Manager at Vaasa Water. The project has been carried out in cooperation with the City of Vaasa's Urban Environment sector's planning, building Control, and municipal engineering, and Vaasa Water.
The pedestrian street has also won praise from entrepreneurs
The press jury, who chose the winner, also drew attention to the participatory interaction between the project and the real estate, businesses, and residents in the area. The regeneration of the pedestrian street has also been praised by local businesses.
– It's great to see the city centre being developed! The entire pedestrian street up to the station is beautiful with its paving and parks. Now some of the parking spaces are not available due to the hotel renovations, but once we get those back into use, I think the result will be fantastic! After the hotel renovation is completed, I believe that we will also have more restaurant activity on the promenade, which will bring more life to the area," says Carola Svahn-Salomäki, entrepreneur at the clothing store Karisma.
Interest from other cities too
The development of the pedestrian centre has also focused on promoting sustainable travel chains. In particular, the development of parking will make cycling more attractive in the area.
– The bike shed built in front of the railway station attracted interest from other Finnish cities at the Municipal Technology Days," says Gröndahl.
The bike shed is located next to the travel centre and provides safe storage for bicycles during the journey or when visiting the area.