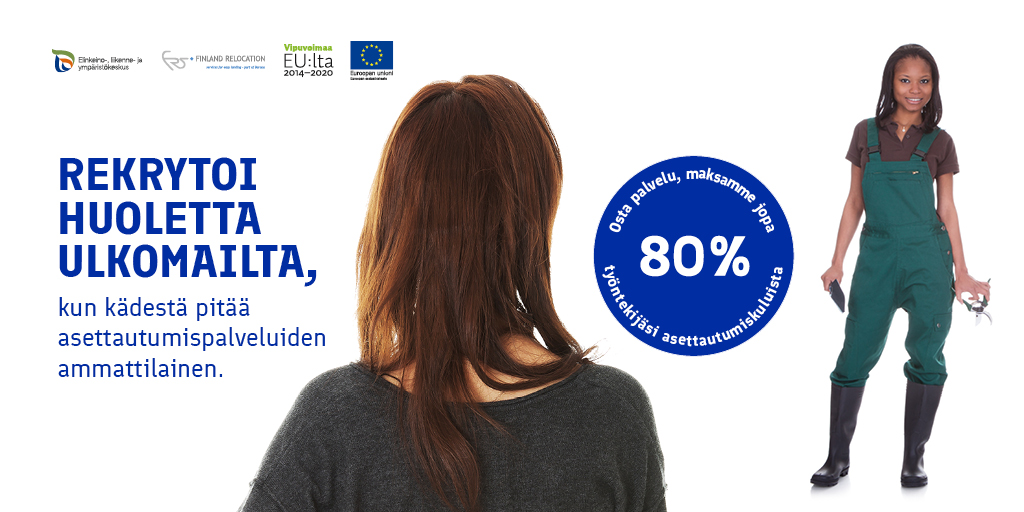 International Talents Boosting Growth
Are you recruiting people from abroad? Are you wondering about the practical issues in Finland? We will cover up to 80% of the relocation service costs for your new employee and their family.
Stress-free international recruitment – we will guide you through the relocation process.
Recruiting people from abroad can be a complex process. Many SMEs may wonder how much of a burden the process will be. Once the immigration permits are in order, your new employee will need help in other ways as they get set up in their new home country.
There's now three customised service packages that SMEs can choose to help one or two people and their families when they come to Finland. The service packages cover some essential areas where we can help, from handling matters with the authorities to supporting the employee's family.
The financial aspect is also an incentive: up to 80% of the service costs are covered by EU funding (ESR) via Course towards Finland / Kokka kohti Suomea project. The maximum value of the grant is €5,000 + VAT, and you pay the rest (at least 20%). The service provider is Finland Relocation Services Oy. The service is available until October 2023.
Please see experiences of using the service by Nomentia Oy (English subtitles can be found in settings)
Further details on the service and how to apply for the scheme www.kohtisuomea.fi
Download a service brochure here 
Contact person
Sanna-Riikka Kulmala – Global Relocation Manager, Finland Relocation Services
email@finlandrelocation.com
+358 9 502 1220