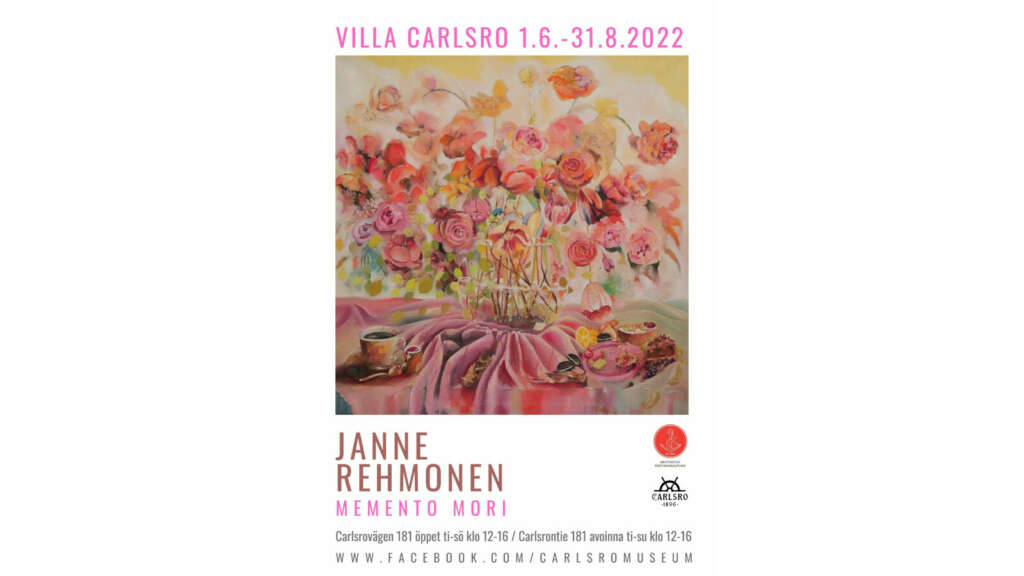 Memento Mori - Janne Rehmonen in Carlsro Museum 2022
Article categories: Museums & Folklore
Janne Rehmonen's charming floral paintings at Carlsro museum´s summer exhibition.
"In flower paintings you can tell the whole cycle of life, from birth to death and a little bit more" (Janne Rehmonen)
Carlsro's summer 2022 is dedicated to flowers. Our summer exhibition Memento Mori offers new perspectives on the genre of flower painting. The golden age of flower painting was the 17th century in the Netherlands. Flower paintings were a metaphor for the finite nature of time and the fleeting moments of beauty in earthly life. Over time, flowers climbed from paintings to textiles, wallpapers and even the ostrebothnian folk furniture. The flower captured in an image is a cornerstone of human cultural life.
Rehmonen, who works as a film and television director, saw a floral painting by Dutch master Rachel Ruysch in 2014. The artists share the same birthday, June 3rd – 320 years apart. Inspired by Ruysch's work, Rehmonen started painting. A flower painting was born, then another, a third… he paints a numbered flower painting for each of the 320 years between the artists, then he stops painting.
The flower is a metaphor for the finite nature of time. Through the lens of temporality, we invite our guests to explore also the main exhibition at Carlsro Museum. Åke Weckström's collection of thousands of everyday objects reflect the moments of everyday life and celebration of Kristinestads citizens. Some of the works in the exhibition were painted for the exhibition, inspired by the Carlsro Museum's collection.
Welcome!