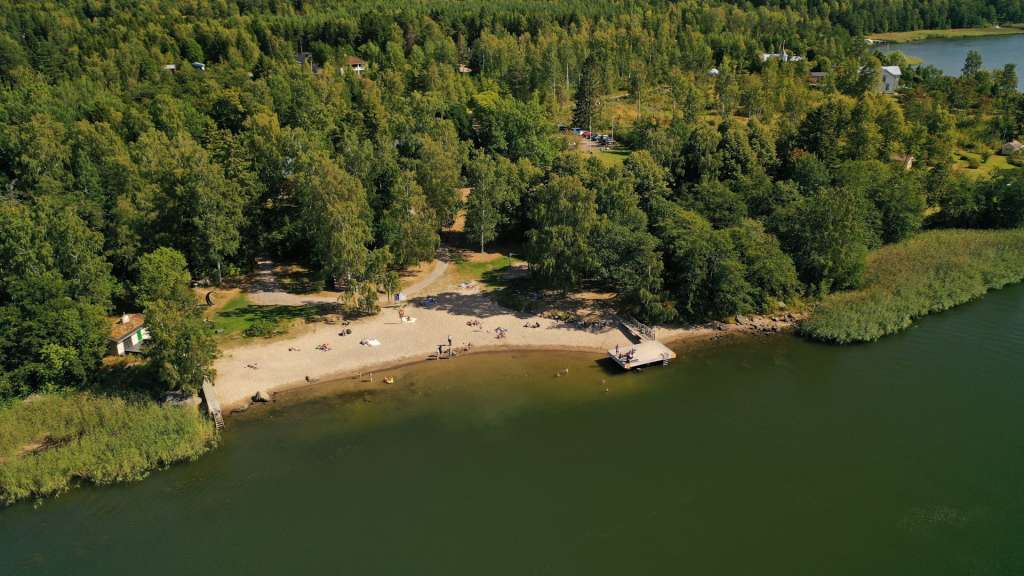 Strömsö beach is located in the Västervik district. Strömsö is partly naturally landscaped and partly built. The beach includes a sandy beach of about 50 metres and a large lawn area spreading towards the mainland. The beach environment is both parklike and wooded.
A little further from the shore the seabed is steep, which causes the water to deepen fairly quickly. The depth of the water twenty metres from the beach is two metres. The starting point of the deep water is marked in the water by a floating buoy line. The seabed is mainly sand. In the northern part it is gravel and stone.
In addition to buoyancy lines, the Strömsö beach has separate changing rooms for men and women, a lifebuoy with rope, rubbish bins, a chemical toilet, an information board and rubber swings. There are two docks on the beach; one at each end. The southern dock is meant for jumping from.
Villa Strömsö, a TV studio, is located near the beach.
The parking area is 100 metres from the beach, next to the lawn.
An unpaved driveway leads to Strömsö.
Dogs and horses are not allowed on the beach.
Open fires are prohibited.