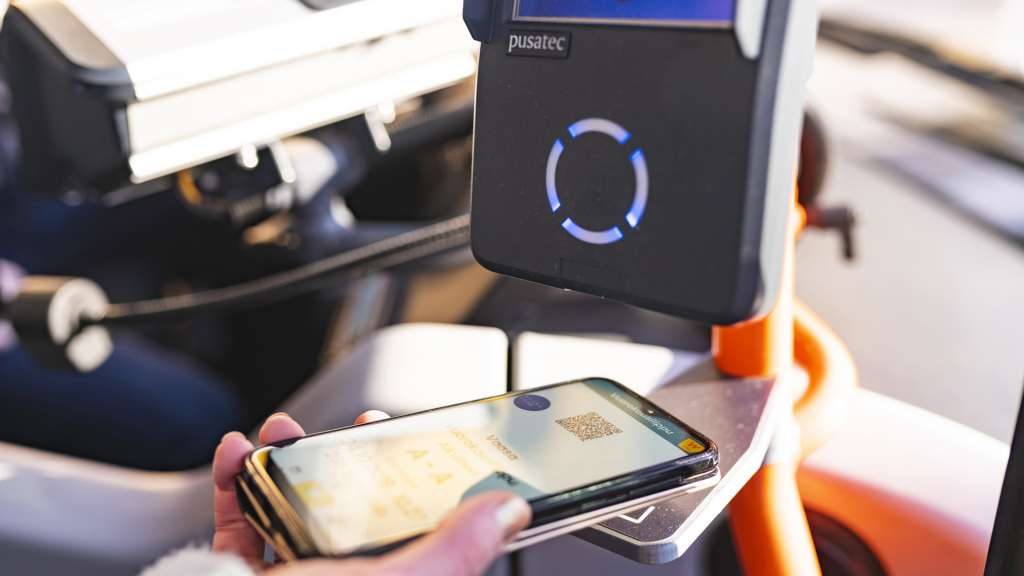 Mobile ticket
You can pay for bus travel on Vaasa public transport with a mobile phone from 28 October 2019. The mobile ticket is purchased with the Waltti mobile app.
Download the Waltti Mobile App
You can buy a mobile ticket for a bus trip by downloading the Waltti Mobile app on your phone from Google Play or the App Store.


The Waltti Mobile app can be used as an anonymous user or as a registered user. The benefit of registration is that the products remain in the user account from one device to another.
Ticket payment
In the app, the ticket can be paid using Visa and Mastercard as well as most common payment cards.
Ticket prices
Waltti Mobile allows you to buy a single ticket, a day ticket or a season ticket. See the price list.
Students
A student discount is not available for mobile tickets.
Here's how to set up your Waltti Mobile
Download the Waltti Mobile app from Google Play or the App Store
Choose a city
Accept the terms of service and read the privacy policy statement
Register or continue as an anonymous user
Select the ticket you want to purchase> The ticket (product) can be selected as a single or a daily ticket from the top bar
Choose Zone A
In the customer group, select Adult or Child
Add a debit or credit card from which you will be charged
After checking the purchase details, press  PAY
The ticket will automatically appear on the screen immediately after payment.
Mobile tickets can be purchased for multiple and different customer groups on the same phone.
The validity of the mobile ticket begins at the moment of purchase. The ticket must be purchased before the start of the journey.
Get on the bus and show your ticket
Place the ticket on the bus QR code reader, below the card remote reader or on the right side of the driver's ticket machine. Align the QR code with the location indicated by the device. A suitable reading distance is about 10 cm below the unit. If the bus does not have a QR code reader, show the ticket to the driver.
Ticket information in the app
With the Waltti Mobile app you can see your current and expired tickets, purchase history and receipts. Click on a ticket to see its details.
If you need a receipt for your ticket, you can send it to your email by selecting the ticket and clicking Submit receipt.
Once registered, you can view your purchase history on all devices. Please note that as an anonymous user, your purchase history does not transfer when you switch devices or users.
User profile
From the Details menu, you can see your user information, change your city selection, change the language of the app, or manage your payment cards as well as check your ticket purchases.