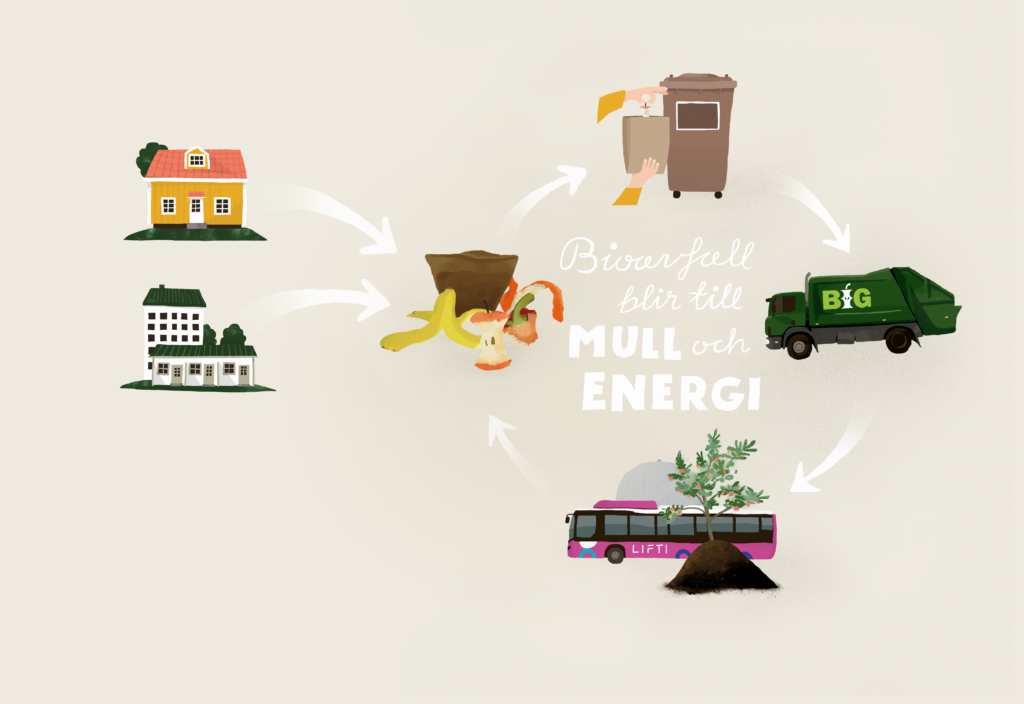 New life for biowaste - The story of the soil at Ristinummi's cultivation box garden
Published: 26.9.2022
The soils of Ristinummi's cultivation box garden come as a donation from Stormossen's biowaste recycling facility. In this article, Stormossen's environmental educator Maija Hyytinen talks about the process of turning biowaste into fuel and compost soil.
Sorting biowaste is worthwhile, because it can be used to make biogas for cars and buses, as well as soil for growing lawns and gardens. Biowaste is also more harmful when mixed together with combustible waste, because a wet mass burns weaker and then oil must be used for the mass to burn evenly.
The story of our soil begins in the kitchen of each of our homes. Organic and compostable waste, such as food scraps, fruit peels, or withered flowers, are sorted separately into biowaste.
This is where a local product of the circular economy begins.
A resident takes the sorted biowaste to the biowaste bin located in the yard, from where a waste transport company takes it to the Stormossen biowaste facility and tips the load in the facility's reception pit. From there, the biowaste bags continue their journey along the line for processing.
In addition to paper biowaste bags, you can also use windowless envelopes, empty flour bags or bags folded from newspaper to collect the biowaste.
First, we crush the bags with a large crusher before adding warm water to the crushed biowaste mass. The mass then continues its journey through a screw press. The screw press has tiny holes through which the pulp is squeezed out. Biowaste often contains materials that do not belong there, such as metal or items belonging to combustible waste, which are separated from the mass and sorted separately. Waste belonging to combustible waste goes to Westenergy to be burned and utilised for energy and heating. A 'magnet' catches any metals and sorts them separately. The biowaste mass then goes through the screw press a second time, so that the biowaste becomes a fine mushy mass. The mass then continues its journey towards the gigantic bioreactor with a volume of 1.7 million litres!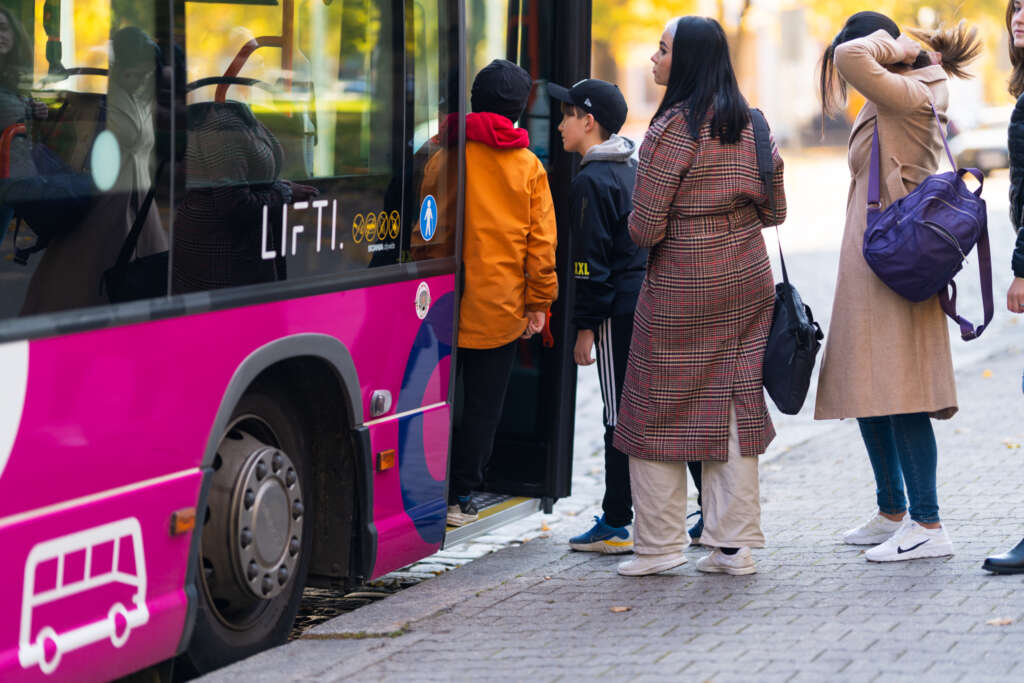 Bacteria and microbes thrive in the bioreactor, which digest the biowaste mass for three weeks, producing methane. Methane is captured at a biogas plant, where it is processed into natural gas for vehicles.
Digestion residue remains from the biowaste mass, which we compost according to a method that is carefully controlled and approved by the Finnish Food Authority. From this composted digestate, we make compost soil, which Stormossen has been selling since 2009. Stormossen has two soil types: garden soil and lawn soil. Garden soil is made from biowaste digestion residue and lawn soil is made from sludge digestion residue. The story of the compost soil ends where it began, i.e. at a resident's home, when soil is purchased from Stormossen at the waste treatment plant in Koivulahti (Kvevlax) or the Isokyrö waste reception station.
Stormossen gives out paper biowaste bags for free
Biowaste bags can be collected free of charge from all waste reception stations, Vaasa library's citizen services desk, Vähäkyrö joint citizen services point, Stormossen's office in Koivulahti (Kvevlax), Ekosoppi, the Finnish Red Cross flea market and Minimossen. At K stores, you can even place fruit and vegetables in paper bags, which can then be later used as biowaste bags at home.
In addition to paper biowaste bags, you can also use windowless envelopes, empty flour bags or bags folded from newspaper to collect the biowaste. As a tip, you should change the bag every 2-3 days so that the bag does not get wet and start to smell. You can also put pieces of egg carton under the biowaste bag. The carton will absorb any excess moisture from the biowaste container.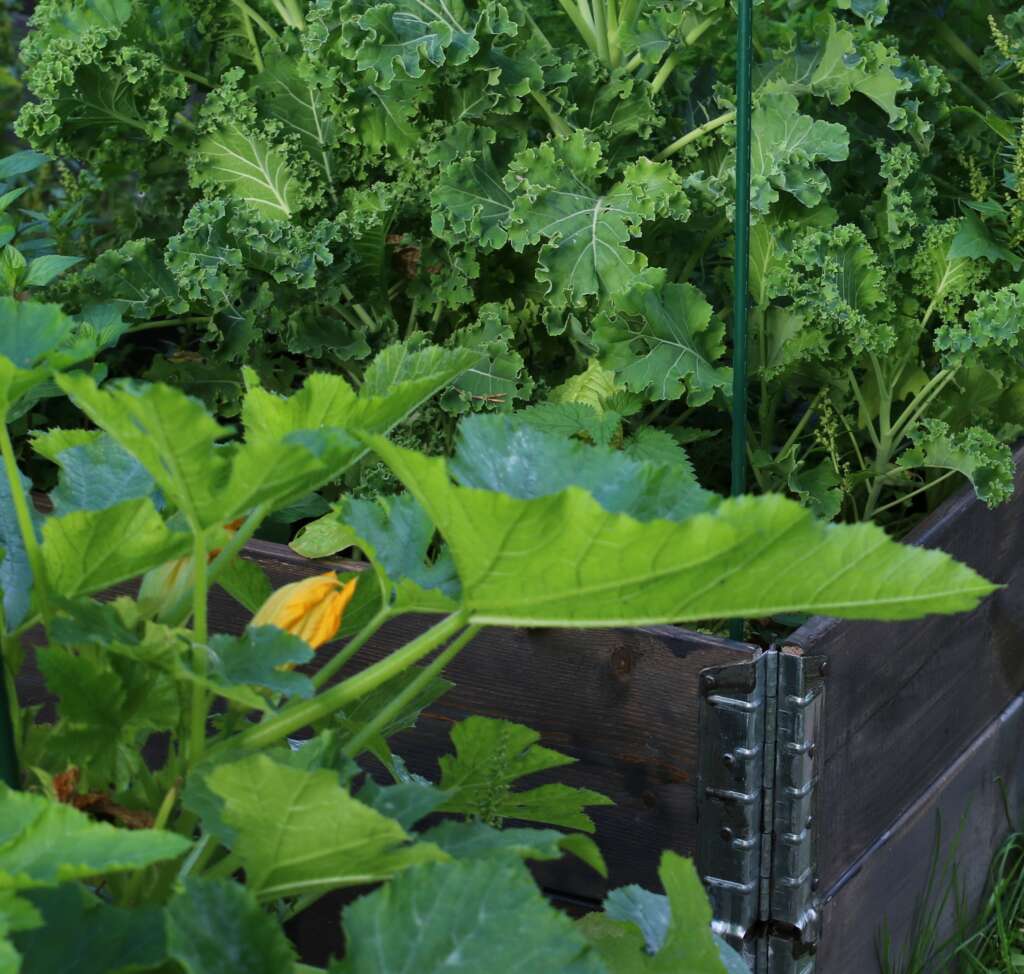 There are many ways to sort biowaste. During 2023, it will be mandatory for the majority of households in Stormossen's operating area to sort biowaste separately. This is a change in the European Union's and Finland's goal of increasing the recycling of materials to 65 percent by 2035. Every time you sort your waste at home, you are doing a good deed both for yourself and for your local environment.
Choose to be a biowaste hero!
Because it matters.
More information
You can read more about sorting biowaste from this link: https://www.stormossen.fi/en/instructions/biowaste/
Read more about Stormossen's compost soil: https://www.stormossen.fi/en/compost-soil/
More information about Stormossen's BIG biogas: https://www.stormossen.fi/en/info-about-biogas/