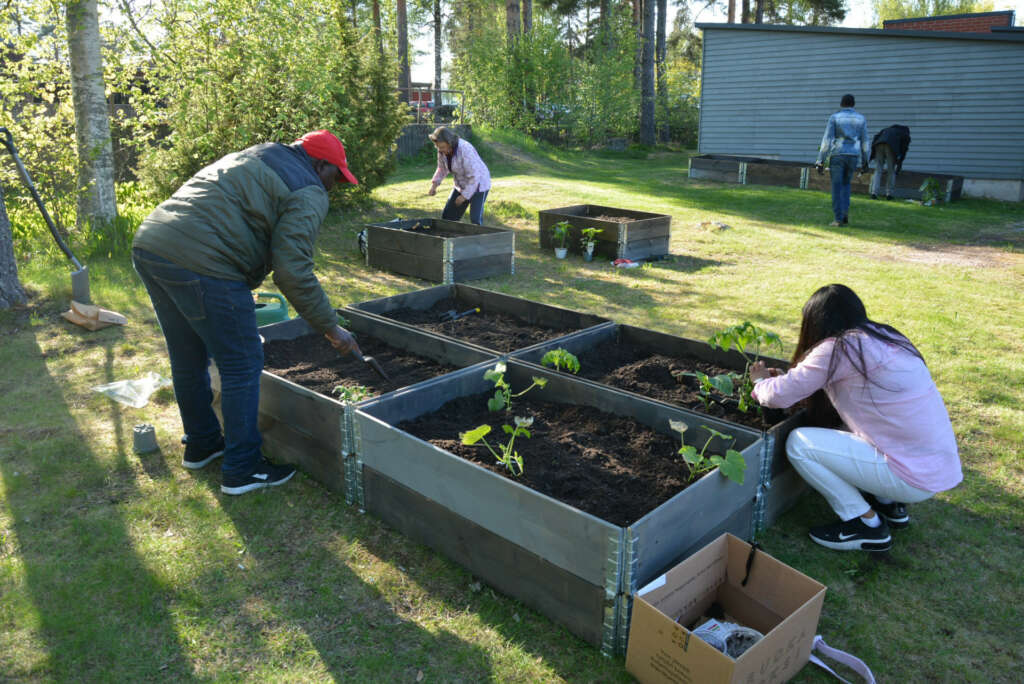 Article categories: News
Ristinummi urban garden becomes green oasis for residents
Published: 31.5.2022
Vaasa's goal is to be carbon neutral in the 2020s. We are now implementing Vaasa's ideas for a more sustainable city life in the Vaasa with Energetic Citizens project. The first pilot project is the establishment of an urban garden in Ristinummi.
Ristinummi residents have been wishing to have cultivation boxes in their district. During the spring and summer, a cultivation box garden to strengthen sustainable urban life will be developed in the yard of the local community centre, Kyläkeskus Kultanummi, in Ristinummmi. Residents of the surrounding district and clients of integration services were invited to join the farmers' group. This spring, 19 urban farmers will start using the garden.
– The garden promotes a circular economy, and the pilot project also supports the integration of immigrants and the communality of the area, says designer Anni Toivanen.
In May, cultivation box farmers will take part in two training sessions, after which they will manage their cultivation boxes independently during the summer. A joint harvest festival will be held in August.
Nutrients circulate from biowaste to the table
The operations are being developed together with residents, local associations and the waste management company Stormossen.
The municipal waste management company Stormossen sponsors the soil in the cultivation boxes, which is produced by composting biowaste from households and food stores in Vaasa. In this way, the nutrients in the discarded biowaste return to the cycle and the crops grow vigorously in the nutrient-rich and locally-produced soil.
– Guidance will be provided to participants on how everyone can contribute to a sustainable circular economy through recycling. The cultivation box garden will become a green oasis for Ristinummi, where not only the residents but also the pollinators will enjoy themselves, explains Toivanen.
In the autumn, focus will be placed on child empowerment
The Vaasa with Energetic Citizens project, funded by the Ministry of the Environment, will have a pilot project in the autumn focusing on children.
– We are developing child empowerment, with the aim of bringing more children's voices to the city's sustainable decision making. The pilot project is still being planned and more information will come in the autumn, says Toivanen.
Cities and municipalities have an important role to play in promoting the green transition process. Similarly, city residents have a key role to play in figuring out what a sustainable lifestyle can look like.
Lessons from the pilot projects of the Vaasa with Energetic Citizens project are being gathered as operating models for the City of Vaasa and for replication in other municipalities.