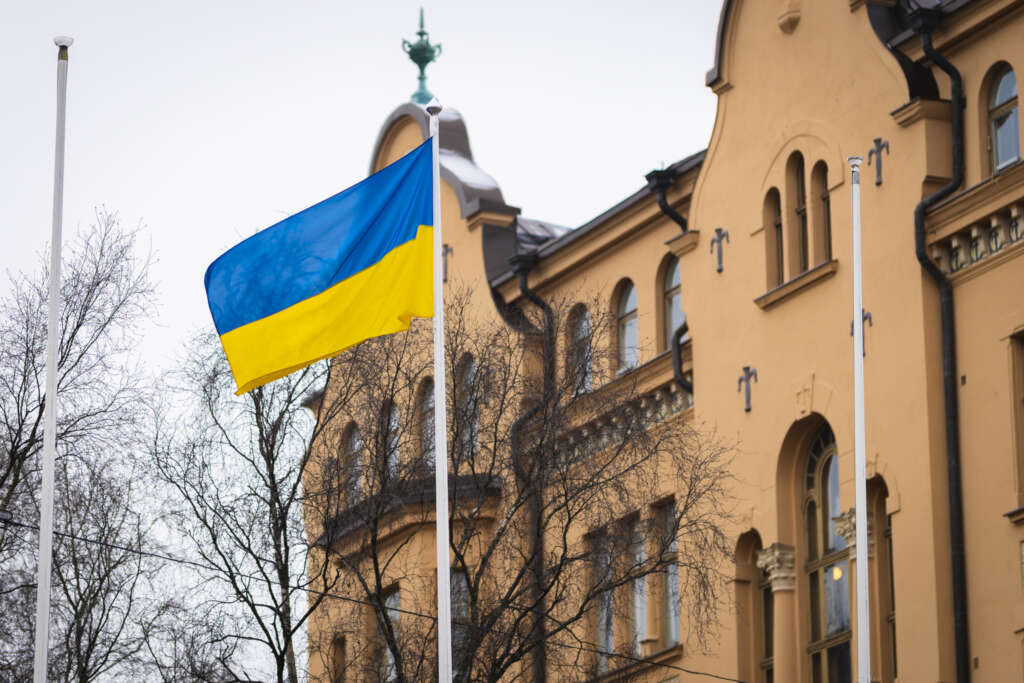 Article categories: Archive News
Vaasa flies the flag around the clock in support of Ukraine
Published: 25.11.2022
The City of Vaasa has hoisted the Ukrainian flag on the pedestrian street at the city centre. With a permanent flag, we want to show our support for a country that has become a victim of a war of aggression.
– With the flag, we want to show our support and strong sympathy both to those who had to flee their homes and to the Ukrainians suffering in the middle of the war, explains head of group administration Jari Karjalainen.
The flagging rules of the state of Ukraine allow round-the-clock flagging in Vaasa.
Ukrainian Ambassador Olga Dibrova visited Vaasa on Friday 25 November. During her visit, she met, among others, representatives of the city and the university. During the visit, the Ukrainian flag was also flown at the City Hall and the Administrative Building.
Support for Ukrainians
The City of Vaasa has offered every Ukrainian who arrives at the reception centre a 30-day ticket that allows free travel in Vaasa's public transport.
Free and open activities have also been organised for Ukrainian families since last spring in the premises of the former open daycare centre in Huutoniemi. The goal of the activity is to offer safe, joint activities in peer support groups for children under preschool age, as well as for school-aged children and their parents and during school holidays.