Sustainable tourism is tourism operation that takes into account the economic, socio-cultural and environmental impacts, taking into account the needs of tourists, tourist destinations, the environment and the local population now and in the future. In practice, sustainable tourism and responsibility can be seen in a tourism company, for example in the recycling of a tourism company's waste, serving locally produced food and in the employment of locals.
Working for and towards sustainable tourism is our common cause
At Visit Vaasa, we do our best to achieve the goal of sustainable tourism and strive to ensure the preservation of our unique environment and cultural heritage for future generations. Taking care of them is is our common cause.
Responsible tourism starts with small acts – with small steps and providing and sharing information we aim to play our part in more sustainable tourism. That's why we've put together tips and advice for responsible and eco-friendly travelers on this page. Pick up the tips and travel responsibly to the Vaasa region!
How can you participate and support sustainable tourism in the Vaasa region?
We have listed tourism companies in the Vaasa region below that have completed Visit Finland's STF program and / or have been granted an environmental certificate supporting sustainable tourism.
Other tips for responsible travel in Vaasa region
Arrive comfortably by train or boat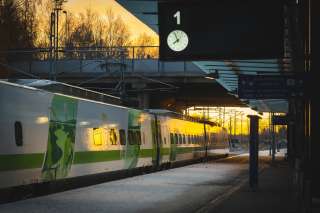 Vaasa and the Vaasa region are located with excellent transport connections. You can easily travel by train (travel time from Seinäjoki to 1 hour, from Tampere to 2.5 hours, from Helsinki and Jyväskylä to 4 hours and from Oulu to 5 hours). By traveling on public transport, you reduce your impact on the environment.
From Umeå, it is easy to sail to Vaasa on the world's most environmentally friendly passenger ship Aurora M / S Botnia. Wasora's Aurora Botnia has been awarded a Key Flag. Read more of  Wasaline here.

Explore Vaasa by foot
It is easy to explore and get the know Vaasa by foot.  The center of Vaasa is compact in size and short transitions in the city center are also considered by many locals to be the best aspects of Vaasa. Central Vaasa is filled with fine architectural history and the buildings have many interesting stories to tell. Experience the city on foot in the footsteps of architects from different ages or jump into the world of past cultural influences. Choose a guided walk or go out and discover Vaasa on your own.Check out the walking routes of Vaasa here.

Enjoy and explore the area by bike
A bike is worth renting if you want to see the city a little outside the city center. For example, a bike trip to Strömsö is a nice day trip, and a tour of the surrounding municipalities will take you longer to see. The stunning nature and peace of the countryside are surprisingly close. Read more!

Also consider sustainability in outdoor activities
In order for our pure nature to be preserved for the next generations it is a good idea to remember the Outdoor Etiquette and respect nature. Move on marked routes, open fire only in the places marked for them, respect fellow travelers and take your rubbish away when you leave. Check out the Outdoor Etiquette here.