Welcome to Paradise Island!
What do you think of when you hear the words "paradise island"? Brightness, warmth, relaxing together, a tropical climate and playing in the water. In Vaasa, you can find a tropical ambience all year round. Tropiclandia Spa is located on Paradise Island, very close to the centre of Vaasa. It's easy to reach by car or bicycle or by foot.
With the temperature set at above 30 degrees Celsius, you can enjoy the warmth of the tropics any time of the year. In the summer, you can also spend time in the outdoor water park.
The slides and pools have warm water and the sun deck offers a beautiful view of the sea.
You can easily spend an entire day in Tropiclandia, so you'll want to take an occasional break to refuel. The pool bar
serves refreshing beverages and tasty snacks. There is also a restaurant with larger meals on the menu. On hot summer days, the sun deck is a big favourite among the visitors — at least the adults. Children might
choose to go down Freefall or Surfing Hill one more time instead.
What's the best thing about Tropiclandia?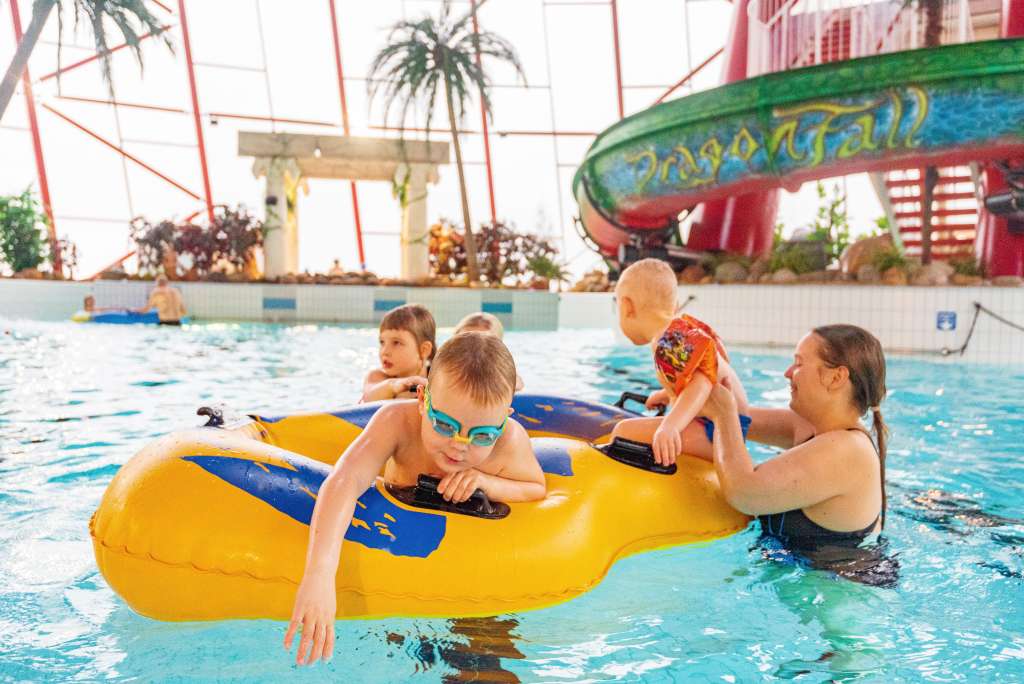 The Lahdenperä family lives in Vaasa and visits Tropiclandia almost every week, so they know the place very well. Katja Lahdenperä says it's easy to spend time at Tropiclandia with children of various ages. "This has become a
way for our family to spend time together. The kids always look forward to coming here," she says.
The older brothers, Veeti and Atte, splash around the deep end or frolic in the waves created by the wave machine. Their younger brother Eetu prefers the shallow pool for now, but he is already dreaming of his turn on the
exciting water slides. Occasionally, the whole family relaxes in a whirlpool or sauna. Katja's recommendation for first-timers is to take their time, see what the park has to offer and, for example, take a refreshing dip in the cold water
pool or challenge yourself by swimming against the stream in the artificial river.
Top Camping – Sweet dreams by the sea
Top Camping Vaasa is an excellent accommodation option for visitors who want to be centrally located by the sea. The camping site has cottages as well as places for caravans, motorhomes and tents. During the summer season, the Lilliputti train runs between the city centre, Tropiclandia and Top Camping, making all of the services easy to reach.
Published 14.2.2020
Top Camping Vaasa

Vaasa Top Camping is a beautiful park-like camping area by the sea, only two kilometres from downtown Vaasa. Our facilities are developed especially for families with children. The water park and spa Tropiclandia is within walking distance.

There are 31 cottages, each housing four persons. All the cottages are equipped with a patio, heating, electricity, a refrigerator, and a microwave oven. In addition, there are water posts and a good barbeque shelter close to the cottages. You have unlimited access to our well-equipped kitchens with outdoor grills as well as showers and toilets. And of course, you are welcome to use any other services at our camping site. Pets allowed in cottages number 27-31.

You can park your caravan or camper van on a beautiful green lawn or on practical hard sand. We have plenty of electricity outlets and are putting up more!

Is there a nicer feeling than to wake up in a tent on the green lawn of a beautiful camping site when the birds are singing on a warm summer morning? You will not feel crowded at Top Camping Vaasa! Our green lawns have plenty of room for hundreds of tents and the services are excellent, too. It is a pleasure to cook in our new kitchens and the other services are also located close by.

+358 (0)20 796 1255

info.topcampingvaasa@puuhagroup.com

https://www.tropiclandia.fi/topcamping/en/

Tropiclandia indoor and outdoor Water Park

Tropiclandia Waterpark is a dream-come-true for a family that loves water.  Water slides, waves, waterfalls, bubble baths, exotic saunas. At the outdoor water park  wild water slide chutes, two activity pools for children, a Jacuzzi and ample space for lying and relaxing in the sun, as well as terrace restaurant.

+358 20 796 1300

info.tropiclandia@puuhagroup.com