Coordinates for home coziness in Korsnäs
Do you like gardening, handicrafts or interior design? Do you want to find new inspiration for home coziness, "hygge" – or what you now want to call everything you can do at home? Go on an excursion to Korsnäs!
Korsnäs is an idea bank for home coziness, as it has been trendy to work with your hands and create a pleasant atmosphere in the municipality for a long time in history. The traditional Korsnäs sweater is perhaps the most famous symbol of the Korsnäs identity also out in the world. Its roots go back to the middle of the 19th century when it represented a real fashion novelty in Swedish-speaking Ostrobothnia. What is then special about the Korsnäs sweater? It combines both crochet and knitting. In addition, colorfulness and abundant patterns are typical of the sweater. If you are interested in needlework and want to immerse yourself in the secrets of the traditional sweater, it pays off to visit Korsnäs local history museum "Korsnäs hembygdsmuseum".
Näytä tämä julkaisu Instagramissa.
Näytä tämä julkaisu Instagramissa.
The village Harrström and its fishing port is also worth visiting. The area belongs to the built cultural environments of national interest that are defined by the Finnish Heritage Agency, but in addition to the official status, there is also much else to see and experience in the village. The boathouses in the fishing harbor as well as the protective sea bays calm the mind and inspire those who like art painting to immortalize the ever-changing life of the sea. Those looking for inspiration in calmer currents can visit the Harrström ån  stream that runs through the village, and Harrström's activity park offers a diverse pastime for children. Do not forget the old stone bridge and the windmills from the end of the 19th century!
Before the home again attracts those who like home coziness, it pays to visit Korsnäs Handelsträdgård. Buy the best pieces of the large greenhouses' flower splendor and rows of plants. In Korsnäs, gardening is also many people's favorite occupation, and when you travel in the municipality, you can politely look at the gardens to get inspiration.
Another little tip for a bombproof nostalgia moment. Even if the car's fuel gauge would not yet show that the petrol is running low, stop at the small petrol station in Molpe. The charm of the past decades inspires new stories on the way home as if by itself.
Näytä tämä julkaisu Instagramissa.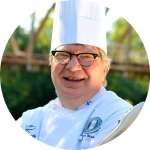 As your travel guide in Korsnäs, Raymond Wesander.

Text published 17.6.2020.