Vörå and Oravais – At the fountain of happy life
In the village of Vörå the recipe for a good life combines well-being for body and soul. An expression that originates from ancient Greece reads: A healthy mind in a healthy body. After spending a day combining exercise, sports and culture in Vörå, a visitor is sure to have gained energy for a long time to come.
Näytä tämä julkaisu Instagramissa.
It pays to start your visit to Vörå at the source of philosophy by getting to know Ehrs Parken. The park also surprises experienced world travelers and makes even the most hardened skeptic believe that it is, after all, possible to move from time and space to a completely different world in a flash. Greek statues offer an interesting journey of discovery to the worlds of Aphrodite, Zeus and Artemis on Mount Grannas.
Näytä tämä julkaisu Instagramissa.
Fortunately, you can just as quickly return to the present, albeit with a somewhat nostalgic mood. Vörå City Cafe has served its customers for decades and for several generations, and has maintained its position as a strawberry place for successful coffee breaks. You can also buy food from Oravais Rökeri, whose charcuterie products are guaranteed to be domestic and ethically produced.
You can get acquainted with different statues, ie. different kinds of rocks and their secrets, in Oravais just off the E8 highway. After the round, you can enjoy some snacks or coffee in the café next door.
But what about the body culture then? Go to Vörå outdoor area. There you can hike, roller ski or play golf on the golf course next by. Vörå golf course is also excellent for beginners. The sports center also has a ski jumping hill. If you are hesitant to try ski jumping, you can climb to the top of the jumping tower to admire the landscape, and you can safely go down by the stairs. There are even more exercise places and sports opportunities, and you will find extensive information about the services on Vörå municipality's web site. However, it is always wise to bring a football, swimsuit and jogging shoes in the car so that it is easy to enjoy the exercise opportunities that arise.
Näytä tämä julkaisu Instagramissa.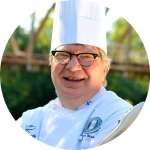 As your trvael guide in Vörå and Oravais, Raymond Wesander.

Text published 29.5.2020.