In the Vaasa region, enjoying good food is part of the local culture. Traditional salmon soup, thick-crust pizza and beautifully presented gourmet food all go hand in hand here. Book your trip, skip lunch and arrive hungry!
Romantic candle-lit dinners – A meal that is prepared with love from local ingredients can be an emotional experience. Seasonal dinner menus will have you coming back for more.
Two legendary restaurants
Renovated Ernst Salonger with its wide wine selection and the historic setting in the same building as the theater  Wasateater, makes this modern bistro a quiet stage between cultural experiences.
Restaurang Strampen is located in a scenic location by the Inner Harbor and is one of Finland's oldest pavilions with more than 150 years behind it. The restaurant is open until Christmas and serves both lunch and à la carte, and in December a Christmas table is laid out.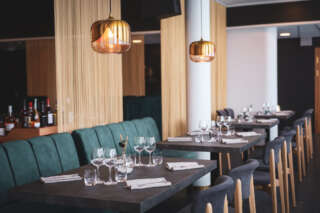 Ernst Salonger | Hietasaarenkatu 7, Vaasa | Information and opening hours 
Strampen | Rantakatu 6, Vaasa | Information and opening hours
Memorable taste experiences are created from high-class ingredients
Restaurant FRÖJ offers an overall experience with top-class food in the center of Vaasa. The parade branch is tasting menus of four or six dishes, but at FRÖJ you can also have a drink at their kitchen counter or choose a dish from the á la carte menu.
The sister restaurant HEJM offers its guests a warm and personal experience with modern home-cooked food in a relaxed environment by Vasa's beautiful seaside promenade. The food as well as the drinks have a strong focus on Ostrobothnian raw materials.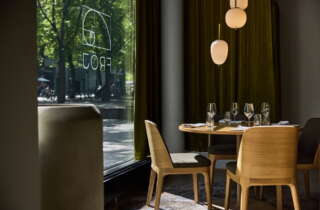 Restaurant FRÖJ | Hovioikeudenpuistikko 19, Vaasa| Information and bookings
Restaurant HEJM | Sininen Tie 1 B, Vaasa | Menu and opening hours
Dinner with a panoramic view
In the restaurant ship Faro's dining room you get a wonderful dining experience in a beautiful and unique environment. The FYR dining room is built adjacent to the ship's terrace, here you are served good food and drinks with a panoramic view of the sea.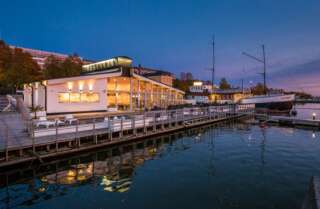 Faros Restaurant Ship & Terrace | Sininen tie 1, Vaasa | Information and booking
Atmospheric and relaxed restaurant in the heart of Vaasa
Brasserie & Bar Fondis has been part of Vaasa restaurant life since 1964. The central location on the pedestrian street means you can enjoy good food and drink while following the pulse of the city outside. In the same building there is also the popular night club Fontana Club and the pub Tørst Company.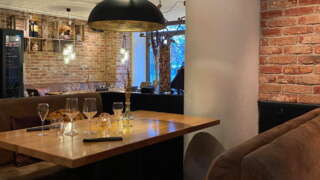 Brasserie & Bar Fondis | Hovioikeudenpuistikko 15, Vaasa | Menu, opening hours and booking
Intimate basement restaurant with gourmet food
Only one block from the market square in the basement of the beautiful Kurtenia building, Gustav Wasa serves gourmet food with local and seasonal flavors. This fall, Gustav Wasa turns 30 and celebrates by making a GW Classic menu. However, if you want to try something completely new, GWegan5 is a 100% vegan tasting menu.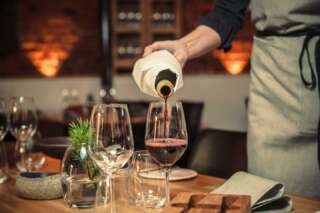 Gustav Wasa | Raastuvankatu 24, Vaasa | Information and booking
Gastropub in a historic brewery environment
Bock's Corner Brewery is a small independent brewery located in a historic brewery environment a short distance from the city center. Whenever possible, the gastropub always sources its ingredients locally and directly from the producer. The beer and cider are naturally produced on site under the supervision of the brewery's own Brewmaster.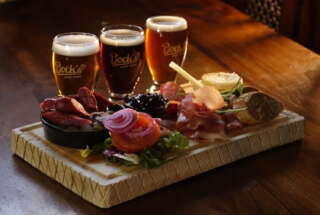 Bock's Corner Brewery | Gerbyntie 16, Vaasa | Read more and make a visit!
Pizza in the Åland style makes your mouth water
At restaurant Niska, named after a well-known smuggler, they serve flat bread, i.e. pizza in the Åland style as well as burgers and salads. On weekdays, delicious home cooking is also served at lunchtime.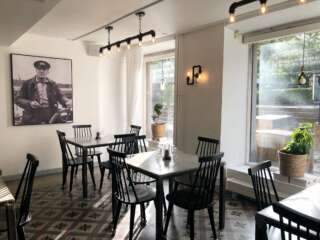 Niska Vasa | Hovioikeudenpuistikko 13, Vaasa | Meny, opening hours and booking
A floating sauna restaurant will open at the end of 2022 in Vaasa!
Sauna restaurant Meri is a feel good restaurant that combines breathtakingly beautiful nature and architecture with Finnish bathing and sauna traditions – all in the same seaside living room!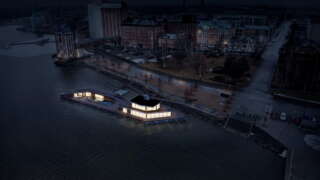 Sauna restaurant MERI | Inner Harbour / Kirjastokatu | Read more about the restaurant
Lunch for a king
An everyday lunch break becomes festive when enjoyed in a building with walls over a hundred years old. E.g. Villa Sandviken, Bacchus, Loftet and Bank breathe the city's grand history, and in electricity company's old headquarters building you find Konst o. Deli.
More lunch restaurants on the page: vaasa.fi/en/lunch
Text published 09/2022