Here we have collected favorite destinations and activities as well as some new acquaintances that are suitable for visitors of all ages. Are you in the mood for a day filled with exciting activities or do you just want to take it easy?
Those looking for fast-paced activities may suddenly find themselves up in a pine tree, aboard a sauna raft or inside a locked room. Find your adventure at vaasa.fi/en/adventures
Activities for the adventurous
In the Zip Adventure Park, in addition to climbing among the treetops, you can jump Bungee trampoline or compete against your friends in various group activities, e.g. Soccer miniGolf  is a novelty that suits most people. Challenge yourself and let the wire take you towards new challenges in the fun adventure park!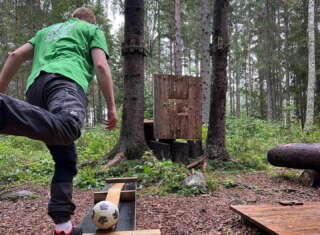 Zip Adventure Park | Niemeläntie 15, Vaasa | Opening hours and prices
Don't we all dream of tropical warmth on a rainy autumn day?
In the indoor water park Tropiclandia next to Hotel Scandic Waskia, visitors enjoy tropical heat all year round and the water is always above +30⁰C. Here, the family's little water beasts thrive, and the saunas, the soft waves and relaxing bubble pools ensure that even the adults enjoy themselves. The pool bar offers refreshing drinks and tasty meals so you don't even have to leave the heat to eat!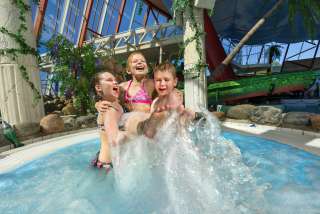 Tropiclandia | Kesäpolku 1, Vaasa | Opening hours and price list
The valuable natural heritage offers the pleasure of excursions and fantastic views
Världsarvet Kvarkens skärgård är den bästa platsen i världen för att uppleva landhöjningen efter den senaste istiden. Hösten i skärgården är vacker – upplev den genom ett besök i utsiktstornet Saltkaret eller vandra i terrängen runt Fort Sommarö, längs Västerö vandringsled i Maxmo eller längs någon av de många andra naturstigarna i skärgården. Eller upplev världsarvet på ett nytt sätt och spela rymningsspelet Kvarkens sjöodjur på besökscentret Världsarvsporten vid Replotbron!
The World Heritage Kvarken Archipelago is the best place in the world to experience land uplift after the last ice age. Autumn in the archipelago is beautiful – experience it by visiting the Saltkaret observation tower or hiking in the terrain around Fort Sommarö, along the Västerö hiking trail in Maxmo or along one of the many other nature trails in the archipelago. Or experience the world heritage in a new way and play the escape game Kvarken's Sea Monster at the visitor center World Heritage Gateway, at the Replot bridge!
A visit to Kvarken's pearl the Island Bergö is an experience all year round. Although it only takes 10 minutes by ferry from the mainland to Bergö, the atmosphere is almost otherworldly.
Replot Bridge & World Heritage Gateway | Raippaluodontie 2, Mustasaari | Listen to stories from the Kvarken archipelago!
Go on a cruise over Kvarken
A karaoke cruise, a family cruise, a dance cruise…

Wasaline is always offering attractive and inexpensive cruises across the Kvarken. Check out the ferry company's great variety of packages which include accommodation on land and also day cruises.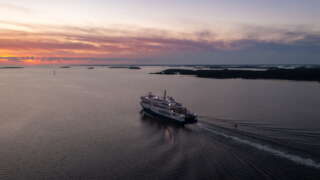 Read more and book! | Wasaline's ferry terminals
A distillery visit filled with flavors and history
Taste malt and marvel over the distillery company's operations at Kyrö Distillery's visitor center. Kyrö Distillery Company is a distillery that has received several international awards and has its production in an old dairy building in Isokyrö. In the kitchen, tasty portions of local food and unique cocktails are produced. Arrange your meeting, theme day or party here and we guarantee it will be a unique experience.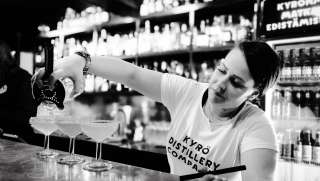 Kyrö Visitor center | Oltermannintie 6, Isokyrö | Distance from Vaasa 44 km | Read more about the company and book your visit!
Make a day trip to Ähtäri
Although there is plenty to see and experience in Vaasa, you mustn't forget all the fun the region has to offer. In Ähtäri you find things to do for several days: padel, bowling, fatbikes or golf and as an end to the day chill in the spa or maybe try a peat massage. Art lovers will find a wide selection of art and museums in the center of the city. The zoo's crown jewels are naturally the celebrity pandas Lumi and Pyry.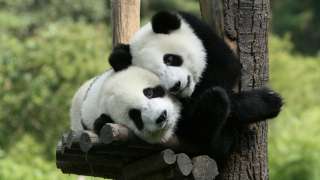 Ähtäri Zoo | Karhunkierros 150, Ähtäri | Distance from Vaasa 164 km | Check out the alternatives and book on: www.visitahtari.fi
Train timetables from Vasa to Ähtäri
Outdoor activities for the whole family
When the weather is beautiful, it pays to fully enjoy the Vaasa region's diverse nature and outdoor opportunities.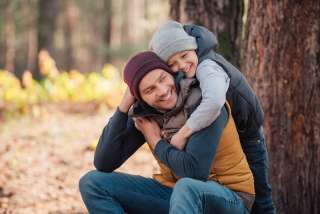 Follow the path of the Ice Age
Nature trails by the sea, duckboards across a nature reserve or an art trail in an urban setting? You find a list over the hiking and nature trails online at: vaasa.fi/en/naturetrails
Parkerna är alltid öppna

Lekar, konst, historia, blomsterprakt och husdjur – i regionens mångsidiga parker finns mycket att uppleva. En lista över parkerna hittar du här.
The parks are always open
Games, art, history, beautiful flowers and domestic animals – the Vaasa region's diverse parks offer a wide range of experiences. You find a list over the parks in Vaasa here.
Mångsidiga möjligheter till utomhusidrott
In Vaasa, there are versatile opportunities for outdoor sports: sports fields, exercise areas, swimming beaches, exercise tracks. Find out more about the opportunities (text in swedish or finnish)
Soft pillows for the red-cheeked
After a day filled with adventures, red-cheeked heroes crawl into a comfortable hotel bed or perhaps you prefer one of the region's cottages or apartments.
More alternatives at vaasa.fi/en/stay