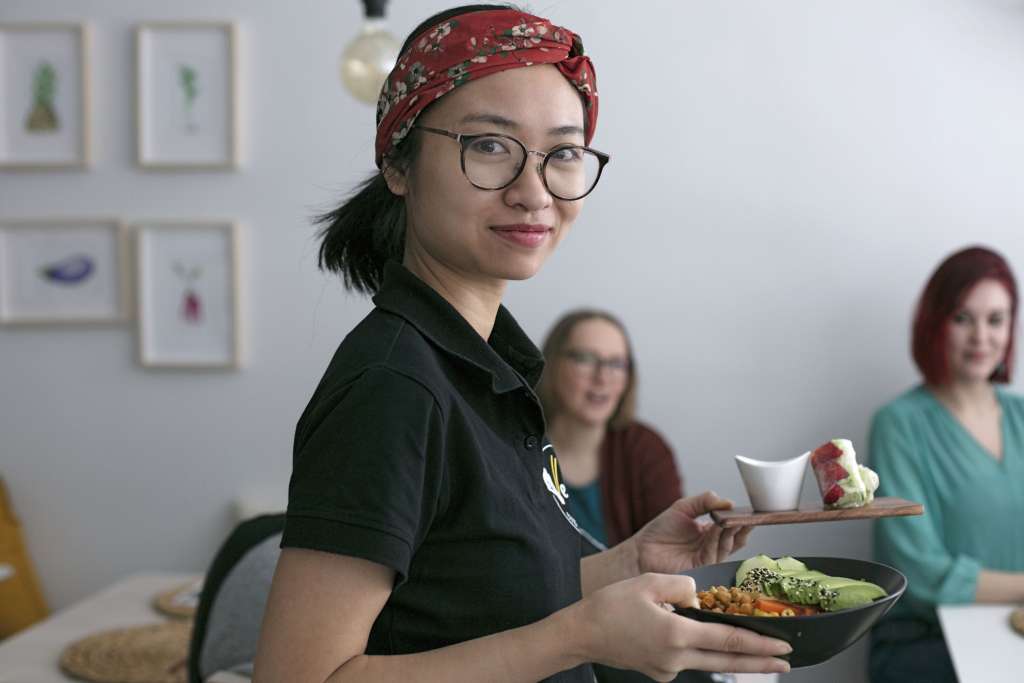 Student work guide
Are you a student in Vaasa looking for a job? Finding the right job could be a bit tricky, so we created a short guide to help you get started. The guide contains hints about job seeking and useful links to organizations and Finnish authorities.
The Vaasa region is in considerable need for skilled international talents. With one of the best employment situations within the country the opportunities for making a career in Vaasa are very good.
There are many big employers in the Vaasa region. The region is particularly known for its world famous energy cluster, with a lot of different companies and operators in the energy sector. Along with the energy cluster, the city of Vaasa is the main employer, offering a wide range of jobs in different fields.
On this page we have collected a few useful things to keep in mind in your search and links to authorities and organizations working with employment related issues. We have listed different types of jobs and hints about where and how to find them.
Permits and practicalities
Here are some things to keep in mind while working as a student and looking for a permanent job after graduation:
The residence permit for studies enables you to work without restrictions if your work is related to your degree. This means practical training and thesis work (https://migri.fi/en/studying-in-finland).

You also have a right to have other jobs but the following restrictions apply: You may only work for an average of 25 hours per week during the academic terms. NB! Working must not disturb your studies.
However: You can work without restrictions at the times when your educational institution offers no instruction. This mostly implies summer jobs. Remember to apply for summer jobs in good time (already in December/January).

After graduation: You can apply for an extended residence permit to look for work or to start a business. Maximum two years (https://migri.fi/en/extended-permit-to-look-for-work).
For updated further information and questions related to these issues please be in contact with the Finnish Immigration Service.
Where to find jobs
There are limitless of methods finding a job and no way is necessarily better than any other. Jobs can be found through a wide range of different channels. To make things a bit easier we have split it up in to two different categories.
Official channels:
TE-Services
TE-services is the official national authority for public employment and business services. On their webpage a lot of very useful information can be found. They have a lot of different services and schemes related to employment issues, for example database of vacant position, guidance, webinars and courses for job seekers etc. This is the first place to familiarize with when looking for a job.
Recruitment sites
There is a big variety of different Finnish recruitment organizations and webpages. Some sites are maintained by governmental organizations and others are maintained by private companies. We recommend you to find these sites on the internet.
University's career service
Some universities have their own career service for students. If that is the case at your university, it is recommended to be in contact with them. If your university doesn't offer these type of services, you can always be in contact with your teachers to inquire if they happen to know about any suitable vacant positions.
Unofficial channels:
Jobs can be found trough a lot of different unofficial channels, for example from friends, teachers, acquaintances, contacts, friends' friends. In other words, through networks. Therefore, it's recommendable to be networking actively and keeping your eyes open for opportunities. Your friend might have a friend who knows a person that might be your future employer. Networking can be done to do face to face or for example on social media.
Every now and then there are also arranged different kinds of job fairs, recruitment matchmaking events or company visits. These are places where it's good to be at if you're looking for a job.
One way, that also can be useful, is to check directly on companies' websites. Usually they post their vacant positions online, but it's often possible to send in open applications. A good site of finding companies and organizations in the region is the website of the Ostrobothnia Chamber of Commerce.
It's good to keep in mind that companies in a certain sector need people with different educational backgrounds. I.e. they might have a need for your skills!
Promote yourself
You're special! Let the recruiters know that.
Even though a company is specialized in a certain business, they still need people with different educational backgrounds.
A well-written resume (CV) and application letter is extremely important. Find models online.
Show that you're active and interested. Social media is a good tool for this. Always ask around if people know about any opportunities.
Language skills
Promote your own language skills! You might be the only candidate speaking this language in the organization.
Knowledge in Finnish or Swedish is not mandatory for all jobs in Finland, but definitely a plus → try to learn at least one.
Find language courses: Your own university, open university courses, Alma Adult Education Centre, online courses, audio guides etc.
Summer jobs
Summer jobs are very typical among students and young people in Finland. They are fixed-term and usually sometime between May and August. However, the application period can start already in December.
Summer jobs are common in sectors such as tourism, restaurants, municipalities, agriculture and other more basic jobs. The City of Vaasa offers for example a wide range of summer jobs in different sectors.
Summer working is an excellent way to get the first contact with Finnish working life. Through a summer job you can get good references and widening your professional network.
As a summer worker you have the same rights as a normal employee. Find more information about your right as employee on the summer job helpline.
Since the competition for summer jobs usually is very harsh, remember one thing: the earlier you start looking, the better chances you have of getting a summer job.
The TE-services offers more information about summer jobs.
Internships and thesis projects
In some educational programs internships are mandatory. In other programs might be optional. In any case, internships are excellent opportunities to gain relevant work experience in your own field of study.
The procedure of looking for an internship is usually the same as looking for a regular job. One thing to remember is, nevertheless, to check with your teacher, supervisor or career service if the internship is eligible as a part of your degree. You can also always ask your teachers about internship opportunities even though it's not mandatory in or degree.
Some internships are paid and some or unpaid. If it is an unpaid internship there might be possibilities getting a scholarship or funding (internship voucher). Ask your teacher or the career service at your university about this.
When it comes to thesis projects, it is recommendable to first be in contact with your supervisor to discuss this possibility. A lot of companies and organizations offers fixed term positions for students doing their theses, so remember to ask around and keep your eyes open for vacant positions.